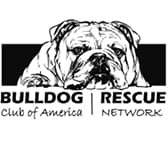 Bulldogs have been coming steadily into our rescue program the entire year and we're always in need of more forever homes for our rescue dogs. Although the Las Vegas Bulldog Club does not run a rescue, we work with legitimate, functioning BCARN rescue associates in Southern NV.
If you have any questions about a rescue program please use our CONTACT form to reach us and we will get back to you right away. Your interest will be sent to the local people that work with the BCARN rescue so that they can contact you with additional information regarding your request.
There are Bulldogs every month who are in need of new homes for a variety of reasons. Rescues not only help place dogs in need, but take in dogs that for many reasons have to leave their homes. In today's world, many dogs are abandon due to foreclosure, illness by either dog or owners among some of the reasons. Great dogs are waiting for you! If you are in the unfortunate position of needing to place your dog in rescue, we will help point you in the right direction.
Can you help? Let us know. We are always looking for good temporary long and short term foster homes.   Contact Us to let us know if you are interested.